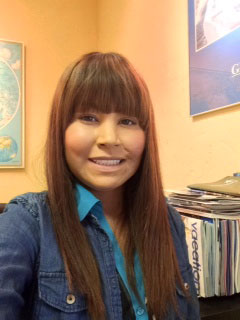 Meet Gissele Miller
At work I love helping my clients discover new destinations, trying new things, visiting their ancestor's homeland or taking that first big trip together as newlyweds.
As a honeymoon and destination wedding specialist I have the very special job of making a couple's first steps together very special. I want every couple to find their perfect trip whether it be at a relaxing Caribbean Resort, an adventure in the Costa Rican Rainforest or a cultural experience in Thailand. Each couple has a dream of what their honeymoon should be and I am here to help make it a reality.
In the past year I have been able to travel to Punta Cana and Mexico a couple times and experience the all-inclusive concept. These trips are great for anyone looking for warm weather and a relaxing experience.
In my personal life I have been lucky to have experienced some very unique trips. My favorites of which are cruising the Nile River in Egypt and returning to my homeland of Brazil for a friend's wedding after 12 years.
My Specializations
Honeymoons and Destination Weddings
My Favorite trips
Cruising Up the Nile River in Egypt
Exploring the rain forest in Puerto Rico
Celebrating St. Patrick's day in New Orleans
My Travel Bucket List
Greece, Thailand, Machu Picchu Peru, Napa Valley California.
Contact Gissele: gmiller@grandviewtravel.com